Open dates for 2023 are April 28 - October 15.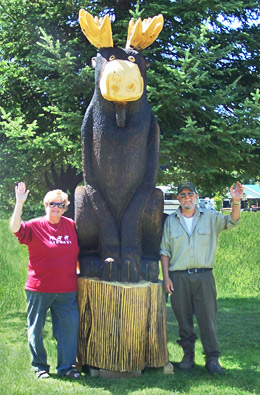 Moose River Campground, located in the Saint Johnsbury, Vermont maple country, is here to cater to your camping comfort and enjoyment. Our spacious campsites are nestled along a curve of the Moose River, a rocky, scenic river originating high in the hills of East Haven, Vermont. We are the perfect place to base yourselves while touring the many attractions in our area. If you come to relax and unwind from the hectic work life, and just want to kick back and watch the river roll by, you will have come to the right place. If you're looking for a change of pace, with some new and interesting entertainment and activities, Moose River Campground is also your right choice! We offer plenty of planned activities every weekend, and nature presents a remarkable show every minute and around every turn! Come enjoy our Saturday night bonfires … and simply relax!
~ Your hosts, Mary, Gary, and Montgomery Moose
We welcome self-contained units. NO BATHROOMS OR SHOWERS AVAILABLE! We no longer have tent sites.
We're Pet Friendly! Your comfort and enjoyment are our greatest concern, and we realize that happy pet owners are also happy campers. We take pride in being pet friendly. Stop by our office to introduce us to your four-legged family member. We keep a supply of dog treats on hand!
Area Highlights. We are located in the midst of Vermont's Northeast Kingdom. In 1949, Governor George Aiken dubbed Vermont's Northeast corner a "kingdom", due to the regal beauty of the highlands and and valleys, expansive forests, rolling farmland, pristine rivers and lakes that endow this 1500 square mile sweep of truly beautiful landscape.
38' RV Rental. Sleeps up to 4 people, fully equipped! Click here to read more.
34' RV Rental. Sleeps up to 4 people, overlooking the river & fully equipped! Click here to read more.
30' Cabin Rental. Sleeps up to 4 people, with 3 rooms, plus deck. Click here to read more.
White Mountains. Our location also provides very easy and convenient access to the beautiful White Mountains of nearby New Hampshire. Spend an entire day at one of the many family attractions, or hike through the White Mountain National Forest, experiencing the sights and sounds of nature at its finest. You may also choose to picnic by a cascading waterfall, swim in a crystal clear mountain stream, or spend the day shopping … tax free!