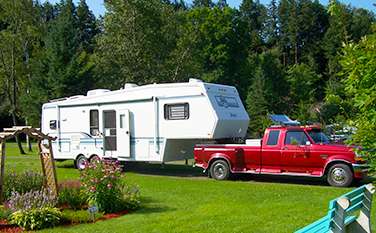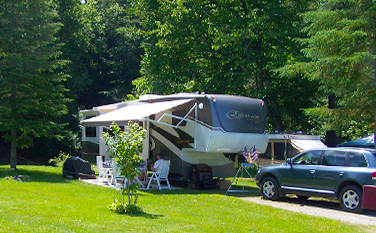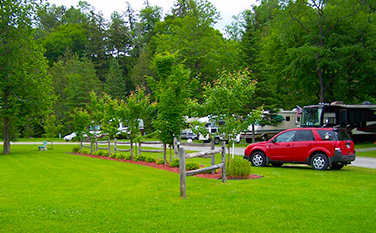 Site Map & Rules
Campground Rules & Policies
Speed Limit – 5 MPH! If caught speeding, you must park at the park entrance and walk in.
Visitors – Fees on Saturdays and Holiday Sundays are $5.00 per person, children under 16 free. Everyone MUST register in the office before going to visit you on your site. Your visitors are your responsibility. They must leave by 10:00PM. Guests are allowed in the park from 9:30AM - 10:00PM, but cannot come into the park after 7:00 pm. All visitors must register at the office!
Check In-Time is anytime after 2:00PM, Check out is 11:00AM.
Quiet Hours – 11:00PM to 7:00AM. Please do not leave before 7:00 am on the morning of your departure.
Please do NOT run your washer/dryer in your RV. Our septic system here cannot handle the extra water. Our laundry is located next to the bathrooms.
Please remember, your pet is on vacation also, so please make sure their vacation is just as wonderful as yours. They need to be on a leash at ALL times, to and from your car/RV, and you need to pick up after your pet. DO NOT leave your pets unattended, it is not fair to them nor your neighbors. Barking is not acceptable, and leashes are not to exceed 8 feet. If you are caught not picking up after your dog, you will be fined $25. If you see anyone not picking up after their dog, you will get that $25. Please do not tie pets to trees and do not cut trees or shrubs.
Do not drive on the grass other than to or from your site. Between the sites are plastic septic tanks and are breakable.
Please, no clothes lines.
Outgoing mail should be placed in the moose mail box at the office.
Emergency messages will be delivered to you site. All others, you can pick up at the office.
Emergency medical services available 24 hours a day at Northeastern VT Regional Hospital near by or by calling 911. Tell them you are at 2870 Portland Street, Saint Johnsbury, VT.
No articles may be displayed or offered for sale on grounds without permission from the office.
Vehicles may be washed by permission only for a fee of $50 (Impact fee to the town) NO EXCEPTIONS!
Place trash in trash bags and deposit in the dumpster behind the pavilion. NO chairs, rugs, wood, appliances. Trash bags only!! We recycle now, included with your map was a Recycle Instructions sheet, it will tell you what we recycle. If you bring your recyclables in a plastic bag, please dump them out into the recycle dumpster and put the plastic bag in the garbage dumpster.
Please remember, this is a family campground, so NO abusive language or excessive drinking, you will be asked to leave if this gets out of hand. (NO REFUNDS FOR THIS)
WE DO NOT CHARGE FOR SUNSHINE, SO PLEASE DON'T ASK FOR A REFUND FOR RAIN.
No refunds for early departure.
Non-conformance with any of the above may result in camping privileges being cancelled.